Christine Stevens – Awaken Your Rhythm
Christine Stevens – Awaken Your Rhythm
What You'll Discover in These 7 Modules
In this 7-part transformational intensive, Christine will guide you through the fundamental spiritual skills and competencies you'll need to successfully experience whole body healing through drumming, including stress reduction, chronic pain control, release of negative feelings, and improved immunity.
This course will feature teachings, training sessions, and experiential practices with Christine. Each session will build harmoniously upon the previous ones so you'll develop a complete holistic understanding of the practices, tools, and principles you'll need to use drumming as a meditation which will help you fall deeply into your heart.
Module 1: Drumming the Elements
The Great Spirit loved the drum so much, he gave everyone a heartbeat.
— Navajo saying
We are incubated in rhythm, held in the concert hall of our mother's womb. The drum is like us — a skin stretched over a shell. Through drumming, we connect with the elements of nature, invite creativity, sacredness, and meaning into our lives. This is the lineage of rhythm. And, before entertainment and performance, drumming had a primary function for healing, community, ceremony, and prayer.
In this first module, you're invited to join the sacred lineage of the drum by shifting your paradigm from playing the drum as "music" to making music with a drum as a spiritual practice. You'll ride the rhythm into the inner realms — the heartbeat of your inner drum.
In this module, you'll:
Learn a drum blessing to connect with the sacred lineage of rhythm
Discover drum holding positions and their divine intention
Discover the four element sounds of earth, water, fire, and air
Learn a Four Element Meditation for grounding, being in the flow, igniting passion, and breathing into expansion
Module 2: Finding Your Groove
Life is about rhythm. We vibrate. Our hearts are pumping blood. We are a rhythm machine, that's what we are.
— Mickey Hart
Being in "the groove" is called being in "the pocket" by drummers. It's the place of synchronicity and effortless flow. It happens in rhythm — and in life. The only thing that blocks it is your mind.
In a scientific study, John Hopkins researcher, Dr. Charles Limb, MD, showed how the brain changes when you improvise, turning off self-criticism and judgement, while activating self-expression and meditation. The drum is one of the simplest portals to this type of musical self- expression.
You'll learn how to find your groove and develop your innate rhythmic capacity through an exploration of the polarities of rhythm — straight and syncopate. You'll also practice making tempo changes for rhythm — and life.
In this module, you'll:
Learn to release self-judgement through the science of improvisation
Develop your rhythmic vocabulary through the exploration of syncopation and pulse
Liberate your creative voice through call and response and drum dialogues
Discover the science of entrainment in what drummers call "the pocket"
Module 3: Healing Through Rhythm
Rhythm is a means of organizing sound into specific energy formulas to harmonize the mind and body.
— Layne Redmond
Healing is defined as bringing back what is missing — being of "sound" mind, body, and spirit.
When Christine worked with survivors of the Columbine High School shooting, she invited students and parents to join together through drumming on one drum. In the unspoken energy of rhythm, there were tears of emotions no words could express, all while keeping the beat.
Researchers from the Mental Health Ministry of the United Kingdom found that drumming reduces anxiety, depression, and inflammation, while also improving social resilience. The vibrations of the drum create a healing "massage," while also boosting energy and empowering creative freedom. Though healing rhythms, you can shift your energy and re-tune to the sacredness of beauty.
In this module, you'll:
Experience the 3 keys to drumming for healing; intention, posture (mudra), and rhythm (mantra)
Evoke healing vibration with a drum massage — for self and others
Learn shadow drumming for emotional release
Create your own healing rhythm for body, mind, and spirit.
Module 4: Drumming Your Power Song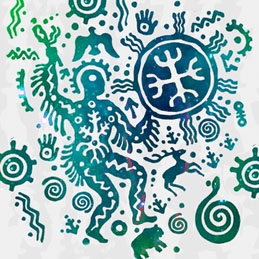 Music can change the world because it can change people.
— Bono
We all have a power song, the "music medicine" that inspires us and shifts our consciousness. Through the alchemy of song, we can literally take a sad song, and make it better. The drum and voice are everyone's biological instruments.
When Christine worked in Iraq, there was a point when she no longer needed a translator… She was speaking with Kurds and Arabs through the language of the drum, playing back and forth in a call and response conversation.
Studies have shown that when we drum and sing together, we build kindness and compassion. The pulse of the drum carries our intentions through songs for prayer and affirmation.
In this module, you'll:
Learn a vocal practice of toning with the drum
Learn to vocalize beats and speak the language of rhythm
Sing your own power song with drum accompaniment
Share and learn sacred songs for blessing, greeting the day, healing, and gratitude
Module 5: Embodying the Beat
The deep rhythms of life, pulsating, stir an ambrosia, flowing and overflowing everywhere.
— Lorin Roche, The Radiance Sutras
From rocking, walking, breathing, skipping, laughing, and resting, we are all vibrantly wired for rhythm. Our bodies entrain — our feet tap and our heads bob. We are walking, talking, ticking-tocking, polyrhythms.
In traditional cultures, master drummers dance just as well as they play, and in drum classes, participants often begin with movement in order to anchor the rhythm in the body.
Neuroscience has shown that rhythm ignites motor neurons and entrains our circadian and respiratory rhythms. Dr. Oliver Sacks, MD, found rhythm and dance to be effective in the rehabilitation of Parkinson's patients. And, a study by Dr. Barry Bittman, MD, found significant improvement in cellular biology after one hour of group drumming.
In this module, you'll:
Explore feminine and masculine patterns of 4/4 and 6/8 — from steps to hips
Experience authentic and subtle body practices to find your groove
Experience the energy of rhythm qi
Discover how rhythm is healing to your physical body
Module 6: Drumming for Meditation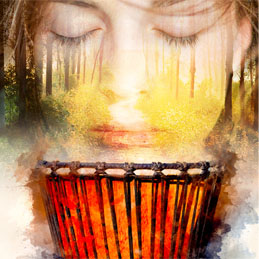 I've been beating this drum of love for you to the tune of "See; my life depends upon my dying."
— Rumi
Through rhythm, we unmind the mind. As Jill Purce says, "the purpose of sound is silence." Drumming creates an active form of meditation and serves as a rhythm mantra, engaging the monkey mind so you can fall deeply into the heart. There are even ancient rhythms used specifically for trance through the practice of repetition. At some point, you lose yourself as you become one with the drum, the rhythm, and the space between the beats.
In this module, you'll:
Learn a rhythm mantra practice — the repetition of patterns
Explore the polarity of rhythm and stillness by drumming your way into silence
Experience mindfulness through drumming
Learn an ancient trance rhythm in a 7-beat pattern
Experience guided imagery drumming to combine drumming and visualization
Module 7: Drumming World Rhythms
The Creator wants us to drum. He wants us to corrupt the world with drum, dance, and chants. After all, we have already corrupted the world with power and greed… which hasn't gotten us anywhere.
— Babatunde Olatunji
In this last section of the course, you'll travel with the global passport of rhythm from Brazilian samba to African econcon, as guest instructors Frank Lazzaro, a Middle Eastern drum master, and Dramane Kone, a West African drummer from Burkina Faso, join us.
This is how we create the shift in consciousness — by imagining the world pulsing together in rhythm, the universal language of music… You and your fellow course participants will entrain across the global online platform of The Shift Network to raise the vibration of humanity…
In this last module, you'll:
Learn the rhythm of samba, a parade beat from Brazil
Play a pol-rhythm using a simple body percussion practice
Learn a Japanese festival rhythm that honors your ancestors
Experience guest instructors, sharing Egyptian and West African rhythms
The Awaken Your Rhythm Bonus Collection
(Valued at $500.00)
In addition to Christine's transformative 7-part virtual course, you'll receive these illuminating bonuses which complement the course — and deepen your understanding and transformation.
Awaken Your Inner Music
Guided Audio Practice From Christine Stevens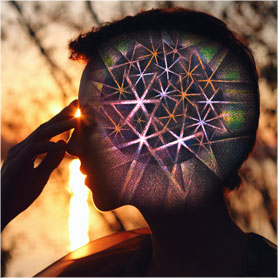 Awaken Your Inner Music is a 22-minute guided audio practice in the four healing elements of music for self-tuning and sound healing. No prior musical experience necessary. You can tap along, dance, move, breathe, and rest.
This audio track includes 4 components:
Rhythm for the body featuring frame drum meditation
Melody for the heart featuring Native American flute
Harmony for the soul featuring strumstick and voice
Silence for the mind featuring singing bowls, chimes, and quietude
Drum! Reviving Rhythms
Full Play-Along Audio Album From Christine Stevens
Drum! Reviving Rhythms includes four play-along tracks, professionally created with a Los Angeles drum ensemble, soprano, sax, and flute. All tracks are mixed to empower your own beat through audio inspiration. No need to learn how to read music! Rejuvenate your spirit and reduce stress through drumming.
The Science of Drumming
Video Teaching With Companion PDF From Christine Stevens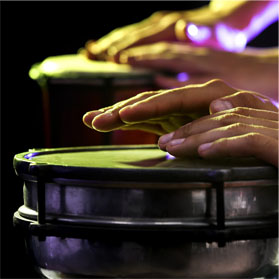 Join Christine Stevens for this compelling webinar which highlights six areas of cutting-edge scientific research on drumming for psychoneuroimmunology and mind body medicine.
This teaching includes studies on:
Entrainment
Brain function
Cellular biology and stress reduction
Employee burnout and mood states
Social-emotional skills for students
Peace building for refugees and war zones